Pet Health Insurance: Offering Protection for Pets & Their Families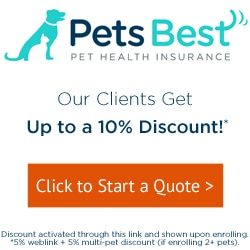 When pets are ill or injured, PawSteps Veterinary Center understands the stress that accompanies concern for a pet's condition. Knowing your pet is covered by pet insurance can alleviate a large portion of the stress surrounding emergencies.
Why should I consider health insurance for my pet?
Pet insurance covers unexpected accidents and illness that can happen to your pet. Common pet insurance coverage includes:
Emergencies
Surgery
Lab tests
X-rays
Treatments
Prescriptions
Hospitalization
Injections
Exams
Once you have decided that the peace of mind and financial help are right for you, selecting the right pet insurance provider can be difficult and confusing. There are several options available, many of which can meet your needs.
PawSteps Veterinary Center's Recommended Provider
We recommend Pets Best Pet Insurance to our clients because we believe they provide families with the best value, coverage, and benefits for the price. We don't receive any referral fees for our recommendation, we simply want to help you get "through the clutter" of the many plans and providers available.
Whatever your decision, we will help you with claim forms for any pet insurance plan you may choose.
Pets Best Pet Health Insurance
Our team is glad to recommend Pets Best Pet Insurance. Our clients can receive a discount of up to 10% on a Pets Best policy by clicking the button above. Some of the benefits of using Pets Best include:
Ability to visit any veterinarian, including a specialist or emergency care clinic
Freedom to decide the treatments and care you want for your pet
Option of adding additional coverage to help cover costs of wellness/routine care
Ability to choose what deductibles and coverage amounts best fit your budget
Pet insurance makes it easy for you to afford the best in care. We know that Pets Best pays their claims fast and pays up to 90% after the annual deductible you choose, up to the policy limits chosen.
PawSteps Veterinary Center encourages every pet owner to consider using a pet insurance provider. We will help you with claim forms for any plan that you may choose.
This material describes Pets Best Pet Health Insurance plans in general terms. Eligible expenses and coverage may vary, depending on your plan selection. All pet insurance plans have limitations and exclusions. Information is believed to be accurate as of the production date; however, it is subject to change. Please refer to Pets Best for more information about plans.